Eclipse Orange press release
All About Jazz album review

Interview Article with Claire by Michael Solender


"Time-tested & unfailingly beautiful"
– AllAboutJazz by McClenaghan (2015)
"Direct, succinct, & skillful - like the NC born pianist/composer Thelonious Monk's style"
– Owen Cordle (JazzTimes/News & Observer)
This recording was supported by a 2014 Charlotte, North Carolina Arts & Science Artist Grant.
VIDEOS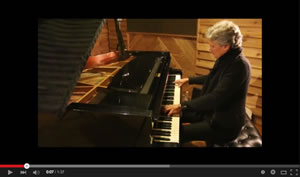 ---
---
Claire Ritter performs solo piano at Tate Hall/Central Piedmont Community College
featuring 'Six New Jazz Variations' with digital media by JoAnn Sieburg-Baker.
---
Queens University Film Performance Collaboration featuring compositions
"Sunshades", "Mirrors", "Blue Grits".
Photography directed by JoAnn Sieburg-Baker.
---
Please visit Claire's YouTube Channel and Facebook Page!
---
New DVD Release!
Live at the Multicultural Arts Center in Cambridge, MA
Claire Ritter & Friends
Guests: Dominique Eade (vocal), Stan Strickland (sop sax/bass clarinet), Takaaki Masuko (perc/drums)
CLICK HERE TO BUY: $12.00 + $3.00 S/H (USA) $5.00 (International)

Click here to watch 'Island Jingle' on YouTube
---
2011 RELEASE -
The Stream of Pearls Project - inspired by water




Artwork credits: "Water, Wind & Sky" (photo by Ian Coristine);
"Shamarraada" (horse photo by Claire Ritter);
"Fly Away" (cover design by Aaron Byrum)

Click here to buy. $13.00 plus S/H
18 illuminating compositions featuring a diverse ensemble – celebrating the artistry of water stretching
from Ocracoke Island of the Outer Banks of NC to the 1,000 Islands of Canada.
Featuring
Claire Ritter (piano), Ashima Scripp (cello), Richie Stearns (banjo), Toni Naples & Rick Hansen (accordion 1+2),
Jon Metzger (vibraphone), Takaaki Masuko (percussion/drums)
---
Recent articles on the newest projects as well as composer students:
---
PREVIOUS RELEASE
Recent Reviews:

All Music | AllAboutJazz |
Jazz Review | Raleigh News & Observer



Acknowledgements:
Cover image by Georgia O'Keeffe- 'Orange and Red Streak,' (1987-70-3),
Permission granted through the Philadelphia Museum of Art: Bequest of Georgia
O'Keeffe for the Alfred Stieglitz Collection, 1987.

This project was made possible through the support of a Charlotte Mecklenburg
County 2006 Arts and Science Regional Artist Grant, NC Arts Council, and
Blumenthal Endowment.




'Waltzing the Splendor' (Zoning Recordings 1009)

Top 10 'Coda' Critics Poll

"…an unusual--and unusually fine--offering from an undersung jazz master"
- All About Jazz, Dan McClenaghan

Guests: Jon Metzger (vibraphone), Jane Hart Brendle (violin), Ashima Scripp (cello),
Dave Holland (bonus track 16)

A passionate and bold gallery of new highlighted work-
Four Jazz Serenades for Georgia O'Keeffe, Opus 23, inspired by O'Keeffe's 1919
oil painting, 'Orange and Red Streak.,' as well as 4 new jazz works composed for and inspired by Thelonious Monk.

$13.00 plus S/H // Click here to order